Class of 2015
Pastor, Community Leader
Allentown, Pennsylvania
Tom Albright already had a master's degree and a seminary ministry certificate when he read the IIRP Graduate School's brochure. He thought their philosophy and goals might help him be more effective in his community. Now everything in his work and life is shaped by the principles of restorative practices.
"The IIRP is great at teaching practical ways for people who relate to people to find healthier ways to build relationships and community."
"I've been able to apply what I learned, ever since my first class," Tom notes. "It changed the way I function. So often in human services, people are taught to do things for people. I've been given practical skills to work together with people."
The engagement and empowerment skills Tom learned at the IIRP provide the foundation for his work at Ripple Church, where he pastors. These inclusive practices have helped the church, located in downtown Allentown, Pennsylvania, to welcome a diverse group of people from varied racial, age, economic, spiritual and educational backgrounds.
"People realize they're part of solutions."

Many of Ripple's services are held in circles, enabling everyone to share their thoughts and concerns. This takes the focus off the pastor and puts it back onto the community, enabling everyone to help each other with struggles around faith, addiction, trauma or emotional health. Those who don't feel comfortable coming inside can attend services outdoors, warmed by a heater, hot coffee and blankets.
Ripple's leadership teams — pastors and parishioners together — meet in circles to solve church issues. "We don't tell people what's needed; we ask: 'What's working? What isn't?'" explains Tom. "People realize they're part of solutions."
If conflict or wrongdoing occurs, restorative questions are used to learn what happened and heal the harm. Everyone becomes "problem solvers, not finger pointers," says Tom. In addition, employing Narrative Therapy processes he learned at the IIRP, Tom helps parishioners struggling with life issues "find a new way to 're-story' their lives, which ripples out into the community."
Providing healing, connections and alternatives to violence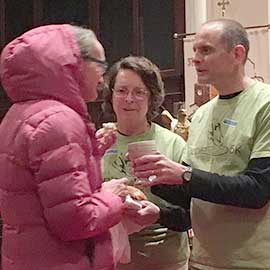 Now Ripple Church has launched Ripple Community Inc., a nonprofit that's bringing relationship- and community-building to the wider region and will engage in research about their effectiveness. About 20 community members have already been trained in restorative processes. Adds Tom, "The more people who are able to apply these basic principles, the more we'll be able to find connections in our world."
The approach and skills Tom learned at the IIRP have helped him to carry out his mission "to provide healing, hope and reconciliation in and among people — with people." He concludes: "These ideas have changed my ministry and my life. They provide the concepts and principles for a diverse and wonderfully unlikely group of people to live, work and worship together."