Class of 2013
Multi-System Therapy (MST) Supervisor
Allentown, Pennsylvania
Michelle Jarrouj-Weaver was working with delinquent and at-risk adolescents and wanted to further her career and enhance her practice. She felt instinctively that merely punishing young people wasn't the way to help them change. "Instead of telling them they did wrong, you need to hear them out, let them think about what they did and learn from it."
She found the IIRP online and was excited to see that the philosophy and curriculum matched her beliefs, and the year-round and online courses fit her busy schedule as a working parent.
I've seen people open up significantly more.
Michelle's IIRP education has been immensely valuable, both for her work and her life. After earning her master's degree, "I immediately got a raise," she notes. More important, she has been able to employ concepts and skills that she learned, ever since her first class.
"It's easy to come in with an agenda. But that's not for them, that's for me," asserts Michelle. Instead, when going into a home, the first thing she does is ask the youth and family: "What is your desired outcome? That's what we'll work on." She knows that's the way to create buy-in and help families make sustainable change.
Michelle's young clients have serious behavioral concerns — runaway behaviors, physical aggression — which can lead to placement in a juvenile facility. The practices she learned at the IIRP, including Restorative Questions and Compassionate Witnessing, are helping youth and families "open up significantly more, dig deeper and think more about what they want to have happen."
For example, Michelle was able to help a family deal with a father's suicide. "They hadn't been able to heal or be heard," she explains. Compassionate Witnessing empowered the family to express their feelings and begin to process and grow.
IIRP graduates effectively engage people and inspire change in lives and communities.
When hiring new therapists for her agency, Michelle reaches out to her fellow IIRP graduates, because, she notes, "We affirm people's value and help them find what they want to do to make lasting changes to make their lives better."
A place that enables enduring friendships, differing opinions and self-awareness.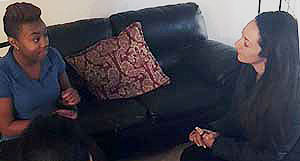 The values of empathy and compassion prevalent at the IIRP enabled Michelle to build lasting relationships with fellow students from diverse backgrounds and with divergent opinions. "It's a place where people can have very different views and still come together," she explains. "I'm a conservative, but my best friend from the IIRP is very liberal. We were all able to air our views respectfully and be heard."
Michelle has become more self-aware, as well. "I was such a tough cookie," she admits. "I realized I needed more self-care — that I'm allowed to have feelings and express them. I learned more about myself than anything."
Why should people come to the IIRP Graduate School? Concludes Michelle: "You meet awesome people. You learn things to help you be a better person for the rest of your life — things that can actually make a difference."