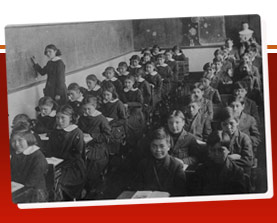 Aboriginal Children in a Canadian Residential SchoolFrom the 1870s to the 1990s, more than 150,000 First Nations, Métis and Inuit children were taken from their families and placed in government-funded, church-run Residential Schools. Aboriginal children were punished for speaking their own language or following traditional cultural practices and suffered emotional, physical and/or sexual abuse; some died. Their unresolved trauma, passed from generation to generation, has had a profoundly negative effect on the relationship between Aboriginal peoples and other Canadians.
As explained at the The Truth and Reconciliation Commission of Canada web site (trc.ca) the TRC "has a mandate to learn the truth about what happened in the residential schools and to inform all Canadians about what happened in the schools. The Commission will document the truth of what happened by relying on records held by those who operated and funded the schools, testimony from officials of the institutions that operated the schools, and experiences reported by survivors, their families, communities and anyone personally affected by the residential school experience and its subsequent impacts."
For the Children Taken, for the Parent Left Behind
Now the TRC has issues its Interim Report, which "reflects activities undertaken by the Commission since June 2009 and provides 20 recommendations that touch on five key areas including the operation of the Commission, education, support for survivors, reconciliation and commemoration. It represents a brief summary of what the Commissioners have heard directly from as many as three thousand former students and staff who were most affected by the schools.
"The truth about the Residential School system will cause many Canadians to see their country differently," said TRC Chair, Justice Murray Sinclair, while speaking at Simon Fraser University's, Morris J Wosk Centre for Dialogue. "These are hard truths that we need to acknowledge in order to lay the foundation for reconciliation."

"We have this incredible opportunity before us to develop and nurture relations of mutual respect between Aboriginal and non-Aboriginal Canadians," commented Chief Wilton Littlechild, TRC Commissioner. "Residential schools operated in Canada for well over a century. In the same way, the reconciliation process will have to span generations. It will take time to re-establish respect. It will take time and commitment to reverse this legacy."
As part of its mandate obligation, the Commission also released a new historical publication. They Came for the Children examines more than 100 years of history, purpose, operation, and supervision of the residential school system, the effect and consequences of the system, and its ongoing legacy.
To download the documents, click here.
Below is a video of the press conference announcing the release of the interim report.