Pierre R. Berastaín, a student at Harvard Divinity School and co-founder of the Massachusetts Restorative Justice Collaborative, writes today on his Huffington Post blog:
---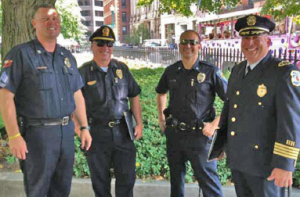 C4RJ police partners gather for restorative justice legislative hearing at the Massachusetts State House. Left to Right: Sgt. Matt Pinard (Littleton), Lt. Leo Crowe (Carlisle), Det. Mike Sallese, Chief Robert Bongiorno (Bedford)
While restorative justice programs continue to sprout throughout the state, no law has helped promote or endorse any of them. This legislative session, however, State Sen. Jamie Eldridge (D-Acton) has introduced Senate Bill 52, an act promoting restorative justice practices. If it goes into law, the act would not only give legislative recognition and legitimacy to restorative practices, but it would also establish a committee to assess programs in the state as well as make recommendations for future programming. This committee would bring together a range of representatives, from court-based programs to community members and academics in the field. For us in the Massachusetts Restorative Justice Collaborative, an organization that seeks to sustain the existing momentum and nourish a more cohesive restorative justice movement throughout the Commonwealth, the Act would further establish our efforts to bring restorative and transformative practices to a number of settings including schools, shelters, and prisons.
Via email, Senator Eldridge explains the inspiration for his bill:
When I was a State Representative, I attended a Communities for Restorative Justice (C4RJ) meeting in Concord, and listened to volunteers and police chiefs talk about the power of the program to make individuals accused of a crime understand the harm they imposed on a victim and how meaningful it was for the victims to reiterate that the emotions and trauma they felt were understood. Based on this experience, I worked with C4RJ to file this bill, creating a statewide local option for restorative justice in Massachusetts.
For Erin Freeborn, the Act is particularly important, as it would lend legitimacy to restorative practices as a method to reduce the rate of repeat offenders. "If Massachusetts could do this, it would be one of the pioneering states," Ms. Freeborn said. A Communities for Restorative Justice (C4RJ) study found that C4RJ maintains satisfaction ratings around 90 percent among persons harmed in the cases referred. In addition, C4RJ found that just 16 percent of offenders referred to the program had been cited for additional offenses, compared with the 27 percent recidivism in the criminal justice system. Economically, too, restorative justice programs seem to fare better. According to a 2012 UMass-Boston study -- "An Economic Analysis of Restorative Justice" -- restorative justice programs in Massachusetts are nearly more than six times more cost-effective than traditional criminal justice methods.
While restorative justice is an emerging field in the law, only Boston University Law School offers a class entirely dedicated to restorative justice. Professor Tom Porter brings together divinity school and law students to explore both theological and legal frameworks of understanding restorative practices. The recognition of restorative practices in the law might also mean more institutions would begin implementing courses to train their students in restorative justice.
---
Read Berastaín's entire piece: Restorative Justice Bill Introduced in Massachusetts.
I would note that the bill enjoys support of various police departments. The following is from Bedford Police Chief Robert Bongiorno's testimony to the Massachusetts State Senate in support of Senate Bill 52:
---
With reference to restorative justice, I will say the same thing that was heard when community policing was making headlines and changing the way our officers looked at their jobs – one size does not fit all. Each of our departments has to evaluate each of these cases, and indeed the individuals involved on a case-by-case basis.
I have already personally seen restorative justice yield positive results. Specifically, I can tell you of some high school student offenders who broke into a local school and committed multiple thefts, the restorative justice approached yielded extremely successful results. I also have knowledge of successful referral cases involving second time offenders, violent crimes and felonies.
Restorative justice is also a great opportunity for victims who want more options than the traditional criminal justice system. Since it is community based, it is also a big win for community members wanting to volunteer and strengthen their community.
The concept is the same whether you're in a city the size of Boston or a town the size of Bedford. Our officers continuously take advantage of professional development. They are the experts on arrests, domestic abuse investigations, motor vehicle stops, evidence, due process, and searches. What I am looking for is an extension of that training, into a program in concert with our partners at C4RJ and in the courts, to introduce restorative justice on a larger scale. This will enable our officers to marry their problem solving skills to an innovative process to help make victims whole and to make a direct impact on the lives of both the victims and the offenders.
---
Read Chief Robert Bongiorno's entire testimony to the Massachusetts State Senate.
Photo from an article titled "Senate Bill 52: Communities for Restorative Justice" in The Bedford Citizen.