John W. Bailie, Ph.D., President of the International Institute for Restorative Practices (IIRP) Graduate School, invites the local community to the Opening Session of its 2019 World Conference, Community Leadership. Keynote speakers will address how to heal violence, polarization and sexual abuse.
Monday, October 21, 9:00 a.m. (Free)
Central Moravian Church, 73 W. Church St., Bethlehem, PA 18018
Learn more and register: iirp.edu/free-iirp-session
"From Violent to Thriving Society: Trauma-Organized Systems and Their Opposites" — Walter C. Long. Founder, Texas After Violence Project
Walter will suggest how our society might transform systems that promote violence, trauma and toxic stress — in criminal justice, schools, government, organizations and communities — into regenerative systems where health and well-being are enhanced, polarization and domination are diminished, and individuals can thrive.
Walter is an attorney in Austin, Texas, who works on civil society issues related to the death penalty, human rights, and trauma. He founded the Texas After Violence Project in 2007, to foster dialogue between Texans on all sides of the death penalty debate, so that they might move beyond polarized discussions and together seek a less violent future.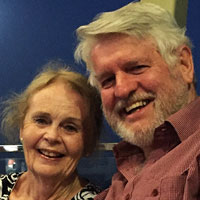 "The Fallout: Listening Circles for Everyone Affected by the Institutional Child Sexual Abuse Crisis" — Vic and Liz O'Callaghan, Restorative Practices Australia; Fr. Anthony Mongiello, Pastor of St. Anne Catholic Church, Bethlehem
Vic and Liz will share their extensive experience facilitating "listening circles" in Australian parishes in response to abuse brought to light by Australia's Royal Commission report. The experience and impact in Australia is similar to what we in Pennsylvania and the wider US are experiencing. Listening Circles create a safe, sacred space for those impacted by abuse to be heard. The process empowers participants to empathize and find a course of action to help victims and their communities heal. Vic and Liz have consulted with the IIRP in developing our own work in this area.
In addition, Father Mongiello will share his church's experience participating in listening circles.
Vic and Liz have contributed to the development of the restorative practices framework in schools and communities and have implemented the framework across Australia. This framework underpins the practice of Listening Circles.
The International Institute for Restorative Practices (IIRP) is an accredited Graduate School, offering a Master of Science and Graduate Certificate in restorative practices, the science of relationships and community.