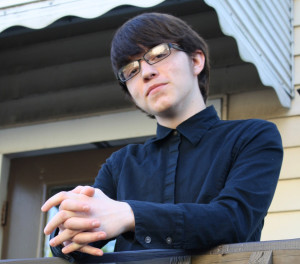 "Restorative practices helped me look at what I did wrong instead of always blaming other people," says Joe RoyEighteen-year-old Joe Roy has been on a bumpy journey, but now he's excited to launch himself into life.
When he moved to a CSF group home and enrolled at CSF Buxmont's Sellersville school at 16, Joe's life was in turmoil. (Community Service Foundation and Buxmont Academy are model programs of the IIRP dedicated to providing education, counseling, foster care and other services to help young people and their families grow and change through restorative practices.) Joe's biological mother had given him up for adoption; then his adoptive parents rescinded their guardianship.
For months, Joe stirred up trouble at CSF, resisting authority and "exciting near riots" among his fellow students, says CSF Assistant Director of Day Treatment and International Institute for Restorative Practices (IIRP) Graduate School alumna Pam Thompson.
Joe himself says, "I was oppositional. And I didn't like to hang out with people." When Joe's behavior crossed the line for the umpteenth time, he was told it was up to him to convince CSF to allow him to stay.
So Joe wrote up a student contract. "He promised to get his act together and show he was leaving the old Joe behind," says Pam.
Joe wrote the contract himself. It was up to him to include specific behavior requirements he needed to meet in order to stay in the program: not an easy task! Unlike punishment, which would only have engendered resentment and opposition, this restorative practice held Joe accountable for his own behavior. At the same time Joe knew that Pam and the CSF staff were pulling for him, providing support for him to grow and change.
What clicked for Joe? Restorative practices: providing high support and high accountability, in equal measure, again, and again, and again.
"

Restorative practices helped me look at what I did wrong instead of always blaming other people," says Joe. Says Pam, "I'm amazed at how restorative practices helps young people achieve what they never thought possible."
Joe can't wait to graduate from CSF and begin classes at McCann School of Business & Technology, where he's earned a full scholarship, to become a licensed medical lab technician. He dreams of going to medical school and becoming an epidemiologist. But Joe also feels great when he can help other kids with their struggles, using restorative practices.
Restorative practices made a huge difference for Joe. These effective skills are at the heart of the knowledge that Pam Thompson and all IIRP alumni are taking with them out into the world.
Restorative educators like Pam don't employ traditional punitive practices. Instead they are helping kids like Joe, transforming oppositional behavior by building supportive relationships and holding kids accountable for their actions. Through restorative practices, discipline problems are decreasing in schools. More important, restorative practices teach students the skills to make better choices, skills they will use for a lifetime.
Why should we invest in restorative practices? "Because," says Joe, "It works."