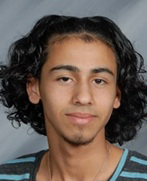 Emmanuel Zayas received a 2014 "Yes I Can" Award from the Council for Exceptional Children.Emmanuel Zayas – Manny – a senior at Freedom High School, recently received a Council for Exceptional Children's 2014 Yes I Can Award for his success transitioning from school to work.
Manny's emotional support case manager, Deanna Webb, has worked with him since he was in seventh grade and attests to the great progress he has made. She said, "Manny's emotional intelligence has really increased. He sees how his behaviors have affected others. He's now a leader with his peers."
Tom Albright, who offers career counseling and job placement and coordinates a school-to-work transition program at Freedom, has worked extensively with Manny, his family and his employer over the past year. Albright said that when Manny first joined his class, he was reluctant to get involved in the restorative circles that Albright employs to engage is students in helping each other deal with issues they're facing in school, at home and at work. (In the video, Manny refers to the "fishbowl," a special type of circle that can be useful for problem-solving.)
But as time went on, Manny became an enthusiastic circle participant, giving feedback and advice to his fellow students and receiving it, as well.
The circles helped Manny do well in his after-school job, so much so that he has been promised a position as a cook at Lehigh University after he graduates this June.
Freedom High School, which is in the Bethlehem Area School District (Pennsylvania, USA), implemented the IIRP's Safer Saner Schools Whole-school Change Program beginning in 2011.
Deanna Webb earned a Master of Restorative Practices and Education at the IIRP in June 2009; Tom Albright is currently an IIRP graduate student.
View a video of Tom Albright wearing his other hat, that of co-pastor of the Allentown, Pennsylvania-based Ripple ministry, a faith community based on restorative practices.