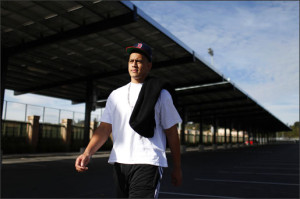 Timote Vaka, 18, a senior at Ralph J. Bunche High School in Oakland by Ramin Rahimian for Education Week
Nirvi Shah at EdWeek has reported many times on restorative justice, restorative practices and other alternatives to zero tolerance policies in schools. This week the magazine published a lengthy piece, "Discipline policies shift with views on what works," as well as a shorter piece about a young man, Timote Vaka, who undergoes restorative justice at his alternative high school in Oakland.
Vaka had already been expelled from his public school, but at his new school which utilizes restorative justice, he had dramatically improved his grades and behavior. However, he lost his temper on the basketball court and assaulted a player on the opposing team. A "restorative justice" teacher, Eric Butler, who had a good relationship with Vaka, advocated that Vaka get another chance rather than be expelled from this "last chance" school.
Butler set up a meeting between the Bunche team and the Island High School in Alameda, Calif., that Vaka's team played the night he lost his temper.

"We all got into a circle. We mixed up the players [from each team]. We went around talking about what we could have done instead of fighting," Vaka says. He apologized to his teammates, the student he hit, and all of that student's teammates. They watched a video of the shoulder bump that set Vaka off, and he realized his mistake.

"I took it the wrong way. I could have walked away," Vaka says.

Then Butler required Vaka to take anger-management classes. The plan to repair harm Vaka has done included an in-person meeting with his parents. They discussed what happened at the basketball game, along with Vaka's departures from campus to smoke, and what Vaka is doing to make that right and keep his place at Bunche.

"A lot of people think restorative is a quick fix. Sometimes it is," Butler says. "More often, it's not."

Vaka says that had he been expelled from Bunche, "I wouldn't be in school at all."

Nor would he be addressing underlying anger and impulse issues, Butler says. Using a restorative-justice approach "left us with an opportunity to connect him with resources he otherwise would not have been connected to. We are being very intentional about the conversation," he says.
The full article, "'Restorative justice' offers alternative discipline approach," can be read here.