Class of 2010
Director of Family Court Services, Glen County, California
City Councilor, Chico, California
Tami Ritter was an administrator working in offender treatment services and felt a disconnect between the way the program was run and the people it served. "Everything was being done to them, and it was obvious they felt like the victims," explains Tami. She realized that this prevented from them taking accountability for their actions.
Tami already had a master's degree in psychology, but at the IIRP she found an alternative approach that resonated for her because it "really puts power back in people's hands." While working in an early-release program for incarcerated people who had drug and alcohol problems, she was able to earn her master's degree in just one year.
"The most important thing I learned at the IIRP was how valuable it is to give people a voice."
Alternatives to: "This the way we've always done it."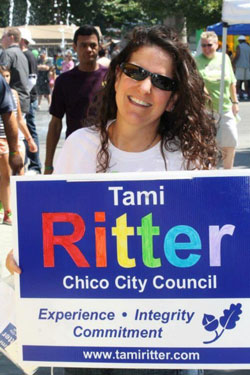 As Director of Glen County, California, Family Court Services, Tami believes her IIRP education gave her a nice marriage of skills that informs her work. "It helped my perspective a lot to see practical applications of alternatives that work."
And in her role of Chico, California, City Councilor, when one of her fellow councilors says, "This is the way we have to do it because that's the way we've always done it," she is able to think outside the box and find alternatives.
Tami explains, "The mindset was, 'we just need more officers to enforce the law.' With an understaffed police department, we also have a significant need for juvenile offenders, and no one was looking at prevention." Taking an innovative approach to these issues, Tami is spearheading Chico Youth Court. This restorative diversion program will provide youth offenders with an effective alternative to the juvenile justice system, holding them accountable for wrongdoing while giving them an opportunity to be reintegrated back into the community.
A daily part of my thinking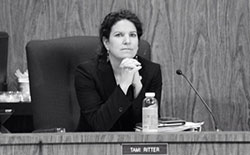 What Tami learned at the IIRP is a daily part of how she processes things. At Family Court Services, as the officer in charge of investigations involving probate court, adoption and guardianship, she strives to work restoratively with people, rather than doing things to them or for them.
"The first objective is to get an agreement. If that's not possible, I write a recommendation to the courts, based on conversations with the parents and the kids." Using elements of family group decision making (FGDM) learned at the IIRP, Tami asks family members to brainstorm resolutions to the issues that brought them to Family Court. "They come up with solutions that I can't, because I don't know their situation." She also emphasizes handing responsibility back to people. "I tell them, 'If you don't take responsibility, a stranger will make this decision for you. You have the option; you need to figure it out.'"
Adds Tami, "I have a young son. That's the other thing I do." She uses what she learned at the IIRP at home, too.
Dive in!
In her studies at the IIRP, Tami appreciated being engaged in restorative practices all the time, practicing new skills, delving into the theory behind them and above all, building relationships with students and faculty. "That was huge." She advises, "When you want to make a change, immerse yourself. Dive in!"