Strengthening Faith Communities Through Restorative Practices

Learn practical strategies to build strong, healthy relationships in your congregations.

Interactive experiences bring you to a full understanding of how a restorative, relational framework and associated explicit practices enhance congregational life. We will consider how this approach sustains a more connected faith community and facilitates healing as needed, enabling congregations to live out their mission and ministry as fully as possible.
Each day runs 9 a.m.-5 p.m. (8:30 a.m. registration). All registration options include three books, each related to one day of the event, lunch and refreshments.
Day 1: What Makes a Faith Community Restorative?

Restorative congregations live out the belief that every person has God-given worth and addressing conflict is most effective when attending to the healing of all those affected. Explore the relational framework of restorative practices and how it fits with your faith and congregation, with a focus on how to create safe spaces for difficult, honest conversations where differences are respected and community is strengthened.

Day 2: Using Circles Effectively

Circles facilitate conversation and encourage full participation, but there are optimal ways to utilise this process that promote truly meaningful communication. Through video, practice and discussion, you will identify reliable methods for using circles to build community, enhance decision-making and address behaviour and relationships.

Day 3: Facilitating Restorative Conferences

Instructional videos and in-depth experiential activities teach you to facilitate a restorative conference, in which everyone impacted by conflict or incidents of harm can share how they have been affected and have a say in how to repair the harm. This formal circle is used to address conflict and harm and fosters positive outcomes.

This event is being presented by Bruce Schenk, Director, IIRP Canada. Bruce is a Lutheran pastor and a Founding Member of FaithCARE. Bruce became the Director of IIRP Canada in 2008. He has worked extensively with schools, school boards, churches and in other contexts across Ontario and Canada in restorative practices training and development. Prior to working in educational and other settings, Bruce served in youth and adult justice, including as a policy analyst and chaplain at Brookside Youth Centre since 1988.
The event will be held at the New Road Baptist Church, Bonn Square, Oxford OX1 1LQ UK.
Participation in the first two days of this event fulfills the prerequisite for the graduate course RP 525 Restorative Practices in Action. This online course will help you implement restorative practices in your setting.
Email or call Jamie Kaintz, Director of Student Services, at 610-807-9221 to learn more.
Tuition at the IIRP is $587/credit. Tuition discounts are available for hybrid courses by contacting the Director of Student Services.


Or call +44 (0)1229 777799
Full 3-day event
50% reduction
£183.65 GBP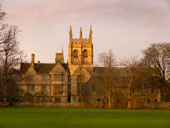 Oxford, city of dreaming spires
This event will equip you to turn crisis into an opportunity for honest conversation
in your congregation about the things that are often difficult to talk about."
Deborah van Deusen Hunsinger, Professor, Princeton Theological Seminary, Princeton, NJ
IIRP Graduate School
531 Main St.
PO Box 229
Bethlehem, Pennsylvania
18016 USA
(610) 807-9221 | Email