***October 10, 2018: FOR IMMEDIATE RELEASE***
Sold-out Detroit world conference to highlight community and school safety, justice
Residents of Detroit want their children to be safe in the community and successful in school. Learning the skills of restorative practices, they're making this dream a reality.

The International Institute for Restorative Practices (IIRP) World Conference
Detroit Crown Plaza Downtown Riverfront
October 24-26, 2018
detroit2018.iirp.edu
More than 620 participants are attending this sold-out conference from around the world, including 75 Detroit community members, via scholarships.
Local Scholarship Sponsors:
Black Family Development, Inc., conference host
Alice G. Thompson, CEO: "Our neighborhood community circle keepers, our schools, our police and our organizations are coming together to improve relationships, reduce tensions, repair harm and take control of their neighborhoods."
University of Michigan-Dearborn
Tracy S. Hall, Ph.D., Executive Director, Office of Metropolitan Impact: "We are deeply committed to being a restorative campus."
Robert Thornton, Senior Program Officer: "The conference is an opportunity to bump shoulders with the restorative elite, who live and practice restorative practices on a day-to-day basis."
The Honorable Mayor Mike Duggan will offer opening remarks and state his commitment to restorative practices for Detroit.
A panel of Detroit leaders will highlight restorative practices work in local communities and schools.
Local presenters will share how restorative practices is:
transforming justice practice and work culture at Wayne County District Court
improving equity, learning and discipline at school districts from Ann Arbor to Ypsilanti
supporting diversity and inclusion at U Michigan-Ann Arbor, U Michigan-Dearborn and Wayne State
More conference session topics include:
Community-police relations
Addressing workplace conflict
Working with gang members
Racial disproportionality in school discipline
Engaging parents and community in building restorative schools
Helping families in trauma
Working with students with disabilities
Community- and system-wide change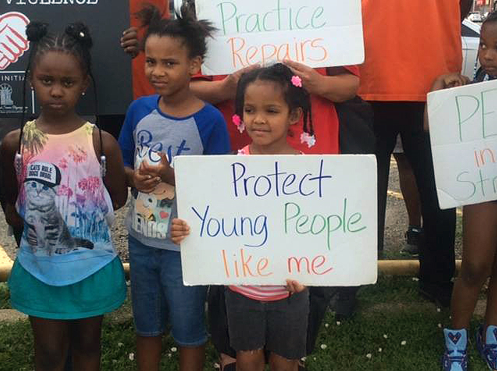 Detroit children at a peace demonstrationDetroit's residents are taking back their neighborhoods…
… making them safer, resolving conflicts and improving quality of life through restorative practices. A donut shop became a haven for drug dealers. So retired police officer George Preston, president and "circle keeper" of his block-club, organized a neighborhood peace walk. "We let the owner know in a positive way that we wanted him to come on board to improve the community," Mr. Preston explains.
Realizing that his neighbors wanted to work with him, not harass him, the owner agreed to make his shop a "green-light business." A flashing green light indicating a police camera on the premises stopped drug dealing cold. Peace walks at a gas station and a fast-food restaurant turned the whole neighborhood into a safe "green-light district." Mr. Preston will be attending the World Conference.
Press are invited. Contact Laura Mirsky at This email address is being protected from spambots. You need JavaScript enabled to view it. or 267-718-7374.
Learn more at detroit2018.iirp.edu.
About the International Institute for Restorative Practices (IIRP): The IIRP Graduate School is dedicated to the study of restoring relationships, social discipline, emotional well-being and civic participation through participatory learning and decision making. IIRP programs are rooted in everyday professional practice and accessible from anywhere in the world, through a wide range of flexible learning options.
About Black Family Development, Inc. (BFDI): BFDI is a private, non-profit comprehensive family counseling agency created in 1978 by the Detroit Chapter of the National Association of Black Social Workers (NABSW). BFDI's mission is to strengthen and enhance the lives of children, youth and families through partnerships that support safe, nurturing, vibrant homes, schools and communities.
###