Bedouens was bullied at his former school and had a hard time fitting in. But thanks to the support and skills he's received from Lisa Cofield, '11, Coordinator of the IIRP model program, Buxmont Academy, he has blossomed into an honor-roll student who is confident, creative and a leader among his peers.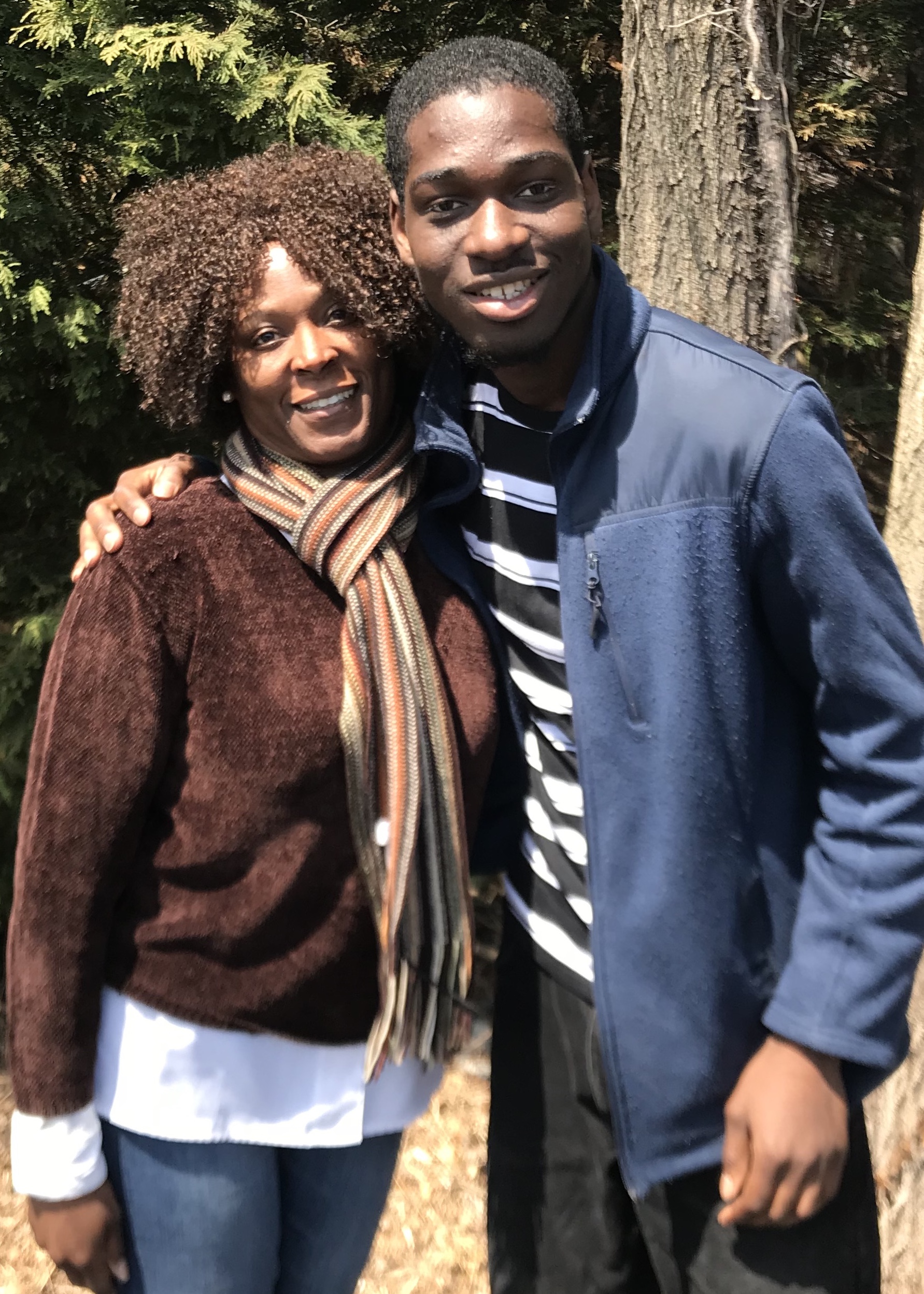 Lisa Cofield, '11, with Bedouens
When he first came to Buxmont, Bedouens didn't like it much. "Back then I wasn't very good with my communication skills," he admits. He preferred to "stay quiet in the corner."
Now, he is such a strong leader, notes Lisa, the students call him "Bedrock," a nickname he embraces. He has learned to support and confront his peers in a compassionate, caring way. "They look to him for encouragement and comfort," she adds.
LIsa models restorative skills, such as how to support and confront others in a constructive way, for all her Buxmont students. She also maintains high expectations for their behavior and academic performance. This teaches them to have high expectations and confidence in themselves, which they need to succeed in school and beyond.
A restorative practice used regularly at Buxmont is circles. Lisa, staff and students facilitate them to build relationships and address interpersonal issues that arise. At first Bedouens wasn't sure about participating in circles. "He didn't understand them," Lisa explains. But the circles really helped him learn and grow. Now he loves participating. "He talks about how they helped him become a better person."
"I learned a lot of skills," Bedouens states: "How to talk with someone If you're confronting — not coming at them but showing them what they're doing wrong in the moment and turning that around."
The restorative skills and concepts Bedouens learned from Lisa have helped him deal with difficult situations. When another student took advantage of him and his family, Bedouens "walked the walk of restorative practices," she affirms. "He told the student: 'You made a mistake. That doesn't mean you're a bad person, but you need to get right with the people you wronged.' And he did."
These interpersonal skills are already serving Bedouens beyond Buxmont's walls. "Now I talk more, even outside of school," he declares. "I'm able to have deep conversations because of my ability to communicate." These are the kind of "people skills" that will help him be a team leader in the workplace, enabling him to work through conflict effectively and think critically.
Bedouens also participates actively in class and is excelling in all his subjects. His favorite is Digital Arts. He's also a fierce competitor in gym, especially basketball, notes Lisa. And he won the Buxmont spelling bee. The winning word was "criticism." The latter two items are all the more remarkable because Bedouens is visually impaired.
And he regularly takes initiative. It was his idea to give his school community a tutorial on braille. He wanted them to understand the tools that let him "see." He organized an Eagles Super Bowl pep rally. He wrote, directed and acted in a play for Black History Month.
With Lisa's guidance, Bedouens has gained so much self-confidence at Buxmont that he puts no limits on his dreams for the future. He hopes to be a movie director and an actor. He has so many stories he wants to tell.
He's certain his skills will sustain him as he embarks on the next phase of his life. "I want to talk to people, hear their stories and spread happiness," he asserts. "I know it sounds corny, but that's my goal." Thanks to steadfast support and high expectations from Lisa and her staff at Buxmont Academy, Bedouens's future is bright.