Academic Catalog
Presidential Paper Series
The IIRP Presidential Paper Series will highlight some of the leading thinkers and new voices in the field of restorative practices, the science of relationships and community. Papers will explore innovative theory and applications in fields such as education, community health, social justice and organizational leadership.
In this series, the IIRP looks forward to pushing the boundaries of this new social science. The series will point to new directions for civil society advocates around the world.
A science of human dignity: Belonging, voice and agency as universal human needs
IIRP President John W. Bailie, Ph.D.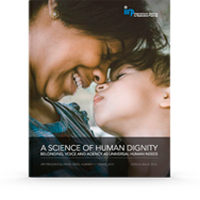 Download the paper.
Abstract: The desire to be treated with dignity is common to all human relationships. This desire manifests as the need to belong, to have voice, and to exercise agency in one's own affairs. In its concern for these three areas of human need, restorative practices scholarship is beginning to provide a frame for the concept of human dignity that is communicable across cultures and disciplines via the language of the social sciences and testable through experimentation and research.
What Is Restorative Practices?
The science of relationships and community.
All humans are hardwired to connect. Just as we need food, shelter and clothing, human beings also need strong and meaningful relationships to thrive.
Restorative practices is an emerging social science that studies how to strengthen relationships between individuals as well as social connections within communities.
Though new to the social sciences, restorative practices has deep roots within indigenous communities throughout the world.
The IIRP Graduate School is devoted to scholarship and research, graduate education, professional development, world conferences and innovative civil society projects around the world.
Learn more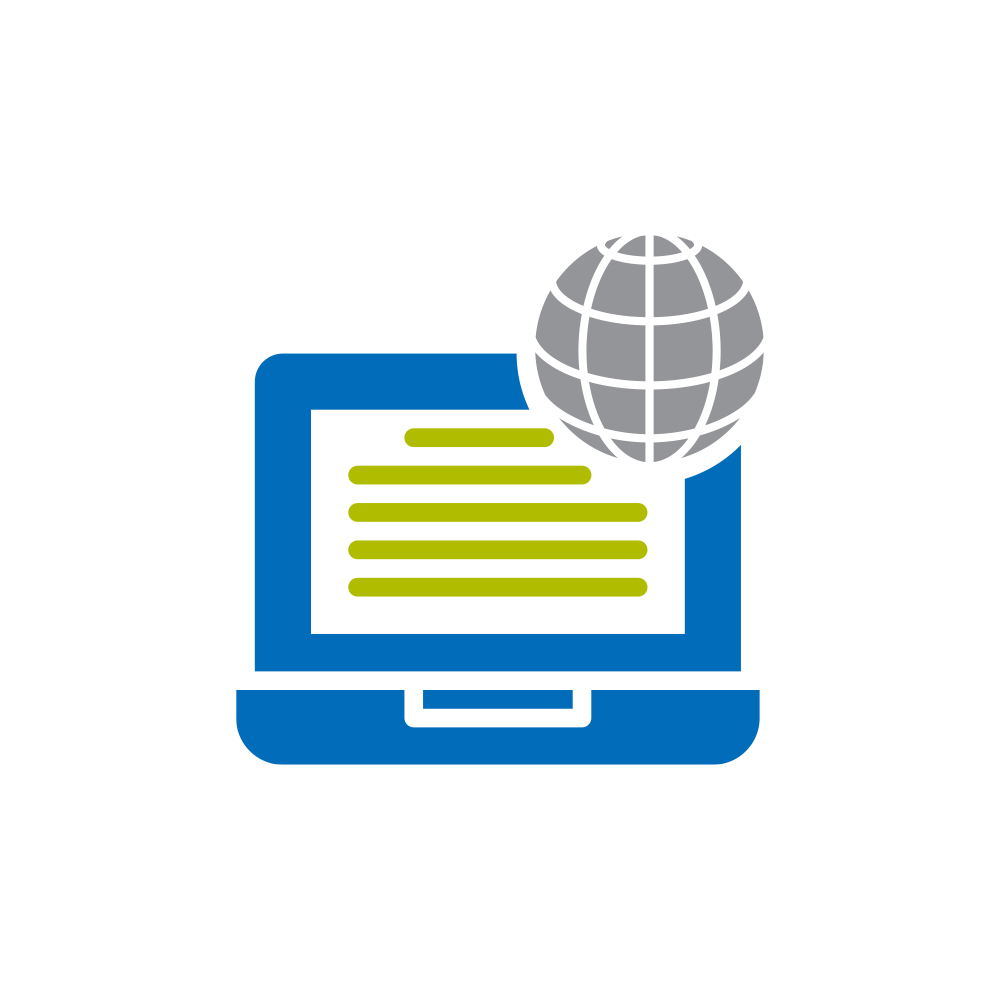 Attend
Online Professional Development
.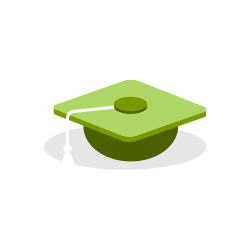 Enroll in a
graduate course
.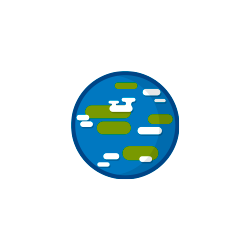 Join us at a
World Conference
.
Message from the President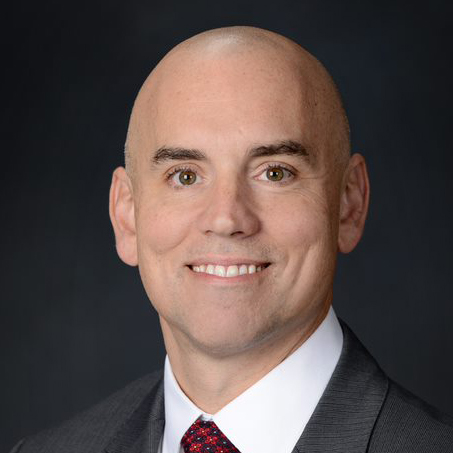 A Science of Human Dignity
The desire to be treated with "dignity" is a universal component of human experience. This is the foundation of my recent paper, A Science of Human Dignity. Across time and cultures, human beings have expressed this desire in a multitude of ways.
There are three dimensions of human dignity that are clearly evident within restorative practices scholarship — expressed as three areas of universal human need. These are the need to belong and to have voice and agency.
Regardless of the many things that divide us, we all seek strong, meaningful and lasting bonds with others (the need to belong). Each of us also needs to know that our unique voice will have an opportunity to be heard, and that our personal story matters to those around us (the need to have voice). Lastly, we need regular opportunities to use that belonging and voice to impact the world around us (the need to have agency).
As a new field of inquiry within the social sciences, restorative practices is exploring this fundamental aspect of human experience and applying those insights to some of the world's most pressing needs and challenges. That is our collective mission.
You'll find many stories related to our mission in this issue of Restorative Works. In particular, we are thrilled to share some of the groundbreaking work by IIRP students and alumni around the world.
The IIRP Graduate School pursues this work through education, consulting and research. We are international, freestanding and wholly dedicated to restorative practices — the science of relationships and community.
An institution does not need to be large to make a sizeable impact on the world. In this sense, the IIRP Graduate School is at the leading edge of the future of higher education. The complexity of social life and the realities of work in the 21st Century demand modestly scaled, focused and strategic higher education institutions capable of going deep into specific challenges faced by civil society.
Our graduate programs, professional development, conferences and symposia, strategic consulting projects and growing range of research activity provide a global platform for inquiry, influence and impact.
You can help to magnify that impact today. Please consider donating to the IIRP's new Impact Scholarships Campaign at IIRP.edu/give. You'll be providing crucial support for real communities and the next generation of changemakers around the world.
Restorative Works Magazine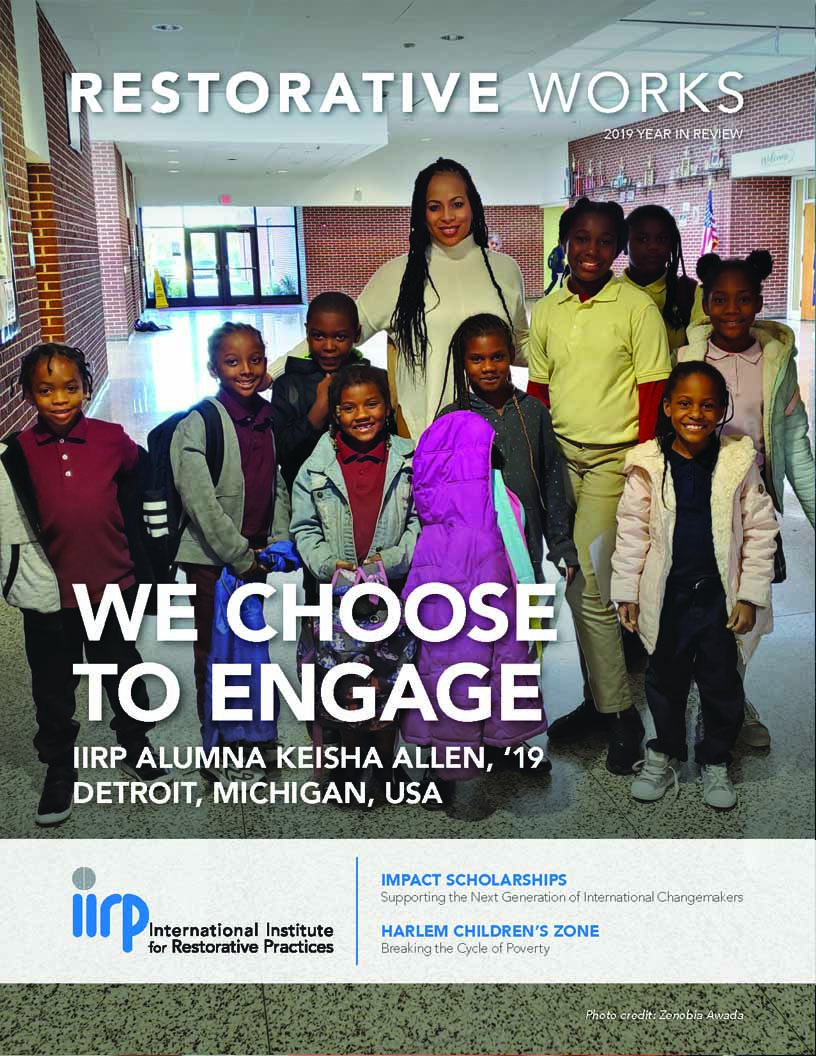 Download Restorative Works Magazine (PDF)
Restorative Works — the IIRP's annual magazine — shows how our students, alumni, faculty and partners are catalysts for the kind of change we need now. By strengthening relationships and community, they are helping people across cultures stand together, discover their power and create positive change. We hope their stories will inspire you and give you hope for the future.
In this issue:
A Science of Human Dignity — IIRP President John W. Bailie, Ph.D.
Alumni and Students Making an Impact
Circling Up with Street Neighbors
Positive Restorative Practices Research in Schools
From Anti-Semitism to Empathy
Connecting Community Health and Restorative Practices
Building Trust Between Police and Community
Harlem Children's Zone
Empowering Communities in Honduras
Restorative Practices Across Singapore
Impact Scholarships
and much more...
---
Download past editions of Restorative Works Magazine
| | | | |
| --- | --- | --- | --- |
| | | | |
| 2018 | 2017 | 2016 | 2015 |
| | | | |
| 2014 | 2013 | 2012 | 2011 |
Support Impact Scholarships
The IIRP is committed to supporting promising individuals in financial need to learn the knowledge and skills to make a lasting positive impact in their communities. Impact Scholarships will provide full tuition and other support for dedicated professionals across the globe.
Your donation will fund students like Arti Mohan, in New Delhi, India. Arti is empowering victims of domestic violence and providing restorative justice to impoverished youth, thanks to her learning in the IIRP Master of Science program.
"For communities where violence, impoverishment and marginalization are unimaginably high, I see my work as contributing to making the world a better place."

Arti Mohan '19
---
Work that makes an impact
We began as an international group of practitioners committed to growing a new social science of healthy relationships. Now our institution is recognized throughout the world for its positive contributions to civil society. We provide skills-specific education to scholar-practitioners, focused on real-life professional challenges.
Our alumni form a passionate network of leaders and role models the world desperately needs:
In Trinidad, music therapist Keisha Martinez is teaching abandoned children with disabilities the social and emotional skills they need to survive.
In Oakland, California, middle school educator Scott Krumsee is enabling students to recover from the emotional trauma of witnessing gun violence.
In Cape Town, South Africa, Family Court Magistrate Gabriela McKellar is providing healing and resolution for families embroiled in the trauma of familial litigation.
The IIRP has provided more than $1 million in scholarships since we were accredited as a Graduate School in 2011 — without the benefit of a large endowment, grant funding or the support of a major university.
Please give to Impact Scholarships. You'll be providing crucial support for real communities and the next generation of change makers around the world.
Learn how to apply for Impact Scholarships.
The International Institute for Restorative Practices is a tax-exempt 501(c)(3) organization as provided by U.S. Internal Revenue Service regulations and is registered as a charitable organization with the Commonwealth of Pennsylvania, contributions to which are tax deductible to the fullest extent permitted by law. The official registration and financial information of the International Institute for Restorative Practices may be obtained from the Pennsylvania Department of State by calling toll free within Pennsylvania, 1-800-732-0999. Registration does not imply endorsement. Tax ID #: 23-3069199
Subcategories
by Ted Wachtel, IIRP Founder