Restorative Successes
Restorative practices is a new field of study that has the potential to positively influence human behavior and strengthen civil society around the world.
The fundamental premise is:
People are happier, more cooperative and productive, and more likely to make positive changes when those in positions of authority do things with them, rather than to them or for them.
Significant implications for society
Restorative practices can impact a wide range of societal organizations—from families, classrooms, schools and prisons to workplaces, associations, governments, even whole nations—because restorative practices can develop better relationships among each organizations' constituents and help the overall organization function more effectively.
Positive outcomes
Restorative practices has demonstrated positive outcomes in a growing number of settings, from education to criminal justice.
In schools

With delinquent and at-risk youth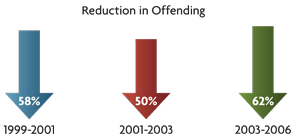 IIRP Graduate School
531 Main St.
PO Box 229
Bethlehem, Pennsylvania
18016 USA
(610) 807-9221 | Email