Professional Development:
Becoming a Restorative Leader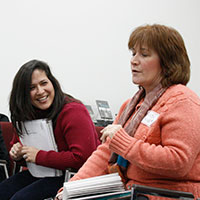 In this 45-min. webinar, you will be introduced to how restorative leadership can facilitate a positive staff community, improve work performance and make you a happier, more confident leader. Learn how restorative leadership:
boosts employee engagement
maximizes the potential of your staff
increases accountability
effectively confronts conflict and disappointments
This webinar is an introduction to core concepts and skills covered in-depth in the IIRP's 2-day professional development event Restorative Leadership Development: Authority with Grace.
IIRP Graduate School
531 Main St.
PO Box 229
Bethlehem, Pennsylvania
18016 USA
(610) 807-9221 | Email