Professional Development:
SaferSanerSchools: Whole-School Change Through Restorative Practices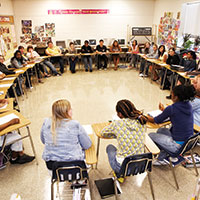 In this 45-min. webinar, learn about the IIRP's SaferSanerSchools Whole-School Change program, a proven effective way to achieve lasting whole-school culture change. Discover how to achieve school climate change with our intensive, cost-effective two-year implementation program that includes:
a strategic organizational change process
comprehensive on-site training & consulting
built-in assessment mechanisms
an effective sustainability approach
The SaferSanerSchools Whole-School Change program reduces misbehavior, violence and bullying and improves student, staff and parent relationships and attitudes. The result is increased instructional time and a safer, more connected school community.
IIRP Graduate School
531 Main St.
PO Box 229
Bethlehem, Pennsylvania
18016 USA
(610) 807-9221 | Email