Professional Development:
Building Campus Community: Restorative Practices in Residential Life on College and University Campuses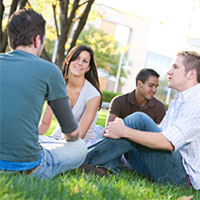 In this 45-min. webinar, you will discover how the IIRP's Building Campus Community program brings restorative practices to college and university campuses. Learn how restorative practices are being used in residential life and judicial affairs to:
improve relationships between and among residents and staff
facilitate collaborative processes that prevent and resolve conflicts
establish agreed-upon behavioral norms and foster decorum
Building Campus Community is a cost-effective way for university residential-life administrators to provide residential advisors and their supervisors with the skills to effectively engage residents, establish authority and uphold expectations, while providing support and giving voice to resident needs and concerns.
IIRP Graduate School
531 Main St.
PO Box 229
Bethlehem, Pennsylvania
18016 USA
(610) 807-9221 | Email