Twice a year, the IIRP convenes scholars and practitioners to share ideas, learn from one another, and push us forward in our thinking and understanding. In addition to collecting and sharing presentations, the collaboration and relationships at these events fuels our spirit.
Upcoming conferences

Oct. 24-26, Bethlehem, PA, USA
Join leading practitioners and thinkers who are shaping the emerging social science of restorative practices at the home of the IIRP and discover how the field of restorative practices is undergoing a rapid evolution in theory development and practice innovation.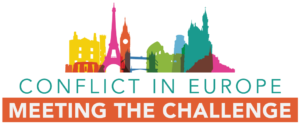 May 9-10, 2017, Dublin, Ireland
The conference will highlight several key issues that European countries are currently facing: de-radicalization and preventing radicalization; migration and immigration; and historic sexual abuse, child sexual exploitation, human trafficking and the sex trade.
Apply this event toward Graduate Coursework
Following the World Conferences, you can enhance your experience by adding online coursework.
RP 541 IIRP World Conference is a 3-credit hybrid course that supplements your experience with related readings, writing assignments and online discussion with fellow participants and IIRP Faculty. Students actively evaluate, discuss and critique presentations using restorative practices principles.
Past World Conferences & Symposia
To date there have been 20 IIRP World Conferences in seven countries, which have brought together thousands of professionals in education, criminal justice and social services from dozens of nations.
View information and papers from past conferences: