Each year, the IIRP convenes scholars and practitioners to share ideas, learn from one another, and push us forward in our thinking and understanding. In addition to collecting and sharing presentations, the collaboration and relationships at these events fuels our spirit.
Upcoming Conferences & Symposia
IIRP Europe Conference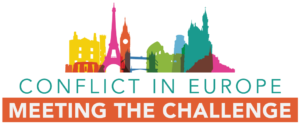 May 9-10, 2017 | Dublin, Ireland
The conference will highlight several key issues that European countries are currently facing: de-radicalization and preventing radicalization; migration and immigration; and historic sexual abuse, child sexual exploitation, human trafficking and the sex trade.
A Restorative Journey: Transforming Relational Harm
July 17-19, 2017 | IIRP's Bethlehem, Pennsylvania, Campus
Our 2017 summer symposium will provide a blend of theory, academic research and practical knowledge for developing healthy habits, pathways to healing and self-care. Drawing from neuroscience and psychology, attendees will learn to recognize trauma, understand its transmission in families and reflect on its effects on individuals and in relationships.
Learning in the 21st Century: A Restorative Vision

The IIRP's 23rd World Conference
October 23-25, 2017 | Bethlehem, Pennsylvania
This conference will bring a special focus on emerging ideas, leaders and visions for the future of learning.
Submit a proposal »
---
Apply These Events Toward Graduate Coursework
Following any of our conferences or symposia, we offer the opportunity to enhance your experience by adding online coursework. Participation in our symposia may be applied toward graduate credit in the course RP 540 Symposia and Conferences. Following an IIRP World Conference, students may sign up for RP 541 IIRP World Conference. These courses are 3-credit hybrid courses that supplement your experience with related readings, writing assignments and online discussion with fellow participants and IIRP Faculty. Students actively evaluate, discuss and critique presentations using restorative practices principles. Contact This email address is being protected from spambots. You need JavaScript enabled to view it., Director of Student Services, at 610-807-9221 for more info.
---
Past World Conferences & Symposia
To date there have been 21 IIRP World Conferences in seven countries, which have brought together thousands of professionals in education, criminal justice and social services from dozens of nations.
Click a link below to view information and papers from past conferences: